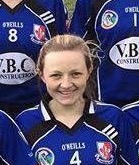 Name: Katie Walsh
 Date of Birth : 18/12/1995
School / College / Work : UCC
Best Camogie memory : Winning the school All-Ireland with GCC
What skill do you think is the most important in camogie : First touch
What would you like to change about the game : No skorts
Favourite sport other than camogie : Hurling
Favourite Camogie player / hurler: Chloe Casey/ Brendan Maher
Favourite food : Fish fingers
Person you would most like to meet : David Beckham
Stranded on a desert island, what could you not be without : Tea
What advice would you give to younger players : Carry your hurley everywhere you never know where you'll see you trainer.
You may not know this but I am good at . . . . . . Calling shotgun
In ten years time, I hope to be . . . . .  Still texting Chloe to go for a puc and the Sunday trips to Thurles.