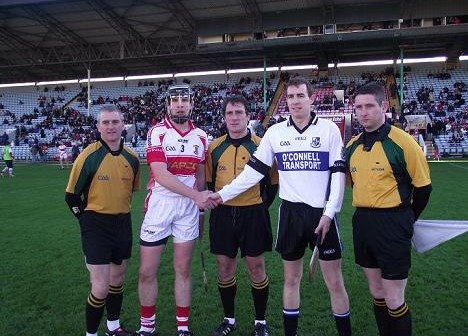 {joomplu:1033}{joomplu:1034}{joomplu:1035}{joomplu:1036}{joomplu:1037}{joomplu:1038}{joomplu:1039}{joomplu:1040}
Thanks to Declan Barron of the East Cork Journal for the photos and match report.
AIB Munster Club Championship
Sarsfields again suffer defeat at the hands of De La Salle
Sarsfields 2-15 De La Salle 0-22 (Aet)
Declan Barron reports from Pairc Ui Chaoimh
Waterford champions De La Salle once again ended the AIB Munster club championship ambitions of Sarsfields from Cork in an exciting semi final played in Pairc Ui Chaoimh on last Sunday afternoon. The Cork champions will not be too happy with Tipperary referee Seamus Roche who made two big calls against them. The first was to have a 65 that went wide retaken as a free with Daniel Roche adjudged to have been too near and this was pointed, while the second and more crucial one saw Michael Cussen despite being fouled break through and part to Kieran Murphy who was in on goal. The referee however called back play with no advantage being applied and Sars had to settle for a point from the resultant free by Cian McCarthy. In the context of the overall game and at the times they happened they were crucial calls that went against the Cork champions.
Taking the game overall however few could question that De La Salle were more than a match for Sars and had the Waterford standard bearers converted some easy chances they would perhaps have won in normal time. Sars captain Alan Kennedy produced two great stops to deny John Mullane and Dean Twomey goal chances and had either been taken then there might not have been the need for extra time.
That said however both sides were slow to get into their rhythm with John Mullane drawing first blood for the visitors. Sars replied through Cian McCarthy before the lively Paudi Nevin had De La Salle back in front. It continued to be very even as Gavin O
Comments
comments