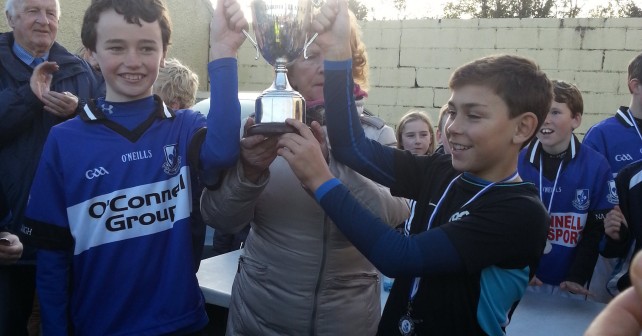 Sarsfields U11 Team kept the Tim 'Birdie' Hayes trophy in Riverstown seeing off competition from Ballyea, Clare, Bruff, Limerick and Erin's Own Cork. Well done Lads. Ballyea captured 2nd prize bring home the Shield Trophy to the Banner County. Thanks to all for making the Tournament a success.
The Tim 'Birdie' Hayes U11 tournament took play in Sarsfields Riverstown on Saturday 8th November 2014. While the underfoot conditions started out as a challenge due to the torrential rain overnight the weather throughout the day was wonderful which added to make the event a success. Teams from Ballyea, Clare, Bruff, Limerick along with neighbour Erin's Own attended the tournament. The tournament was run on a League basis with Sarsfields Blue taking the Tim 'Birdie' Hayes Memorial Cup overcoming Ballyea who returned to the Banner County with the Tim 'Birdie' Hayes Shield. Tim's wife Ollie was on hand as was Conor O'Sullivan Sarsfields and Cork Senior star to present the medals to all players. Ollie presented the shield Trophy to the Ballyea captain and then the Memorial Cup to the Sars joint captains Aaron Roche and Darragh Long.
Tim Hayes better and affectionately known as "Birdie" was a native of Sallybrook and along with his family were staunch Sarsfields supporters.
"Birdie" was a timber merchant who also made hurleys. He was a very stylish defender and played with Cork on numerous occasions. He starred at left full back in Sars first County Championship win in 1951.
The Cup being played for at the tournament was presented by his wife and family to perpetuate his memory.
Thanks to all the parents who helped to make all this a success from preparing the facilities for the event, from food, teas and coffees to the tidy up after. For helping in lining out the pitch from early morning and assisting when requested over the day.
Also to St John's Ambulance Services who were present at hand when needed. To SuperValu Glanmire who gave some treats to all the kids. To the referees Edward Gaffey, James Murphy, Luke and Aidan Hackett. To the Sars juvenile committee and officials who helped to organise the event and finally to Conor O'Sullivan and Ollie Hayes for officiating at the presentation ceremony.
Comments
comments