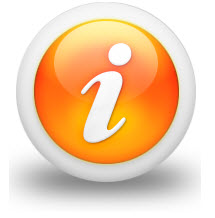 Last Updated on 30th April 2014
---
*** Next U11 League match v Na Piarsaigh away Date & time TBC ***
---
*** NEW Club shop now opened evey Saturday 10 am to 12 midday ***
The Sarsfields Club shop opens every Saturday from 10:00 am to 12:00 midday in its new location on the ground floor of the pavilion. Full clothing range from the latest tops, jerseys, training wear as well as helmets, hurleys and sliotars.
*** Upcoming Games 2014 ***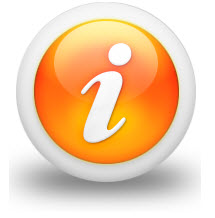 | | | | |
| --- | --- | --- | --- |
| Date | Time | Versus | Location |
| May 2014 – TBC | TBC | Na Piarsaigh | Na Piarsaigh |
| May 2014 – TBC | TBC | Midleton | Sarsfields |
---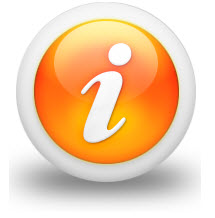 *** Sarfields U11 Training Schedule ***
Sunday 9:45 am to 11:00 am. Location Kiely Park
Wedneday 5:00 pm to 6:00 pm. Location Kiely Park
---
Welcome to the homepage of Sarsfields U11 Hurling Team for those boys born in 2003
We currently have 34 boys as part of the squad. Many of these boys are playing together since U6. We also have some who joined within the last year. They are all very welcome. We hope they all enjoy coming to training and most importantly having fun learning the core skills of the game.
The emphasis of our coaching is to encourage effort, commitment and teamwork while developing the fundamental skills of hurling.
While we like to be competitive every time we take to the field, it is still important on having fun and enjoyment.
Team Photo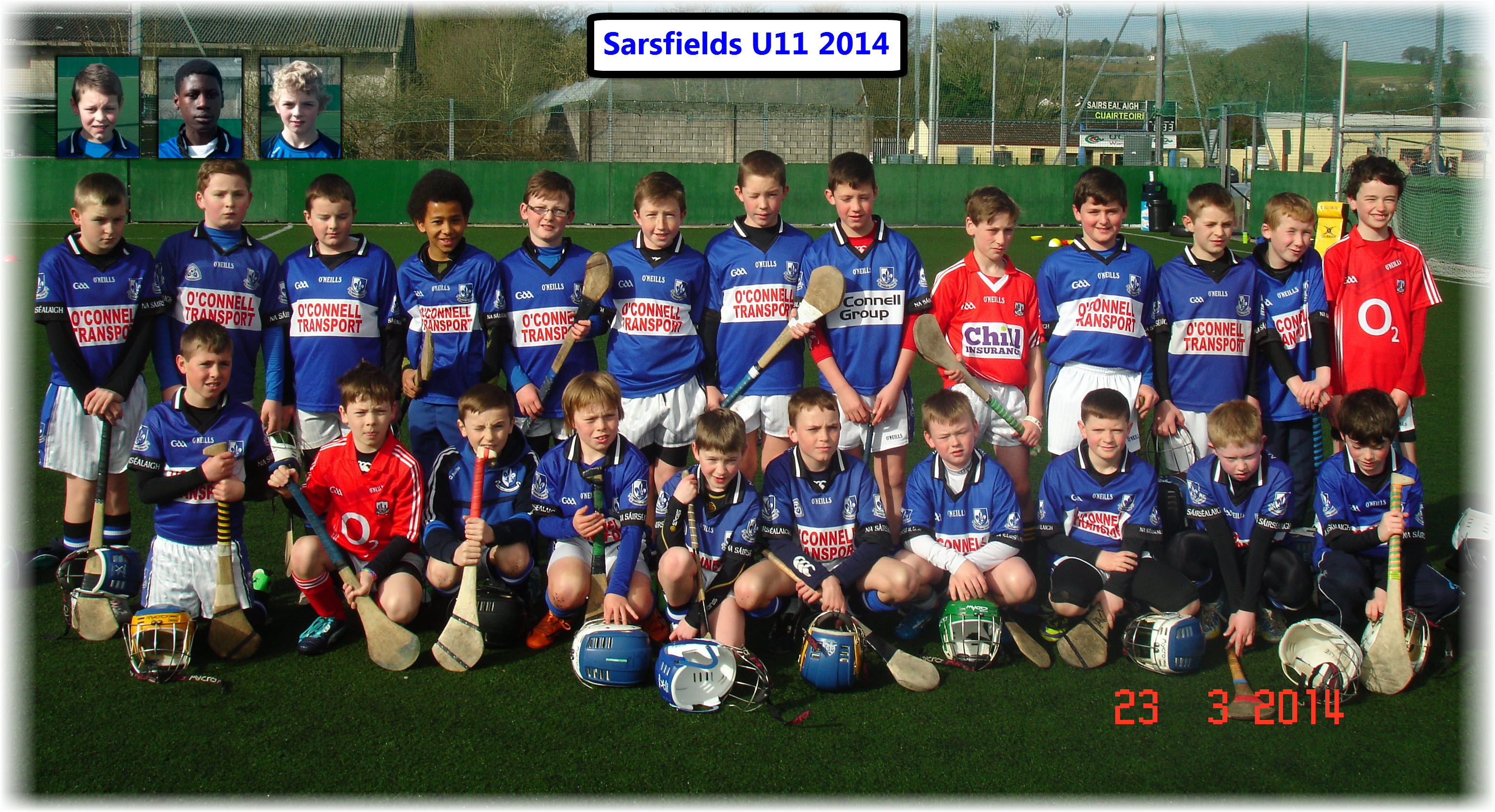 Our Approach
The aim of this year which is is to promote 'First Touch'. We have developed a set of skills which are been followed during the training sessions that aims to improve the quality of the hurling and refines the core skills with a big emphasis on 'FIRST Touch'. Over the course of the year these skills will increase in intensity and difficulty such that the players can in simple terms play hurling with speed, agility, balance and coordination.
Our Training Principles
Registration
Registration for 2014 season is now closed. Of course new players are always welcome.
Upcoming Matches
Na Piarsaigh away
May 2014
Midleton at home May 2014
Match Reports
Sunday 6th April v Douglas
Sarsfields U11 had their first match of the year plus the first time on grass on Sunday afternoon the 6th April 2014 in Riverstown. After a weekend of rain and concern if the game would be played we had a wonder contest. Sars fielded a Blue and a Black tem each comprising of 13 players.
Each team played one game 20 mins a side from 20 to 20.
Both teams started slow and somewhat static and it took the full half for our teams to get to grips with the pace with Douglas sharper in most areas and first to the ball on most occasions. However as the game progress we got to grips and the balance turned more our way. It was a hard fought game for both teams.
Most encouraging was the progress on first touch, some great batting, blocking and hooking, left and right hand striking and the distance of the strikes. While marking was intense and the exchanges robust the teams showed great energy right to the final whistle in this very competitive fixture.
Our first touch still needs work with focus on hand to sliotar speed plus weaker side development. Holding field position, marking and spatial awareness are also aspects we need to work on.
Overall it was a good performance with many positives and gives us as mentors a understanding of where we are and it was a most encouraging first outing and great preparation for the league which start next weekend.
Well done to players on all sides and many thanks to Douglas for making a trip to us.
Thanks also to Luke Hackett for taking time out to referee one of the game and to Tadhg Murphy and the Club for granting us permission to use the pitch after many days rain. Thanks to Denis Kelleher for his help on the day and having the jerseys ready and waiting.
Finally to the parents of the Sarsfields U11s for the continued support.
Good work done, More to Do.
Sars U11 Team Management
*************
Wednesday 9th April v Kiltha Óg
A Sarsfields selection of 14 players took to the field in Castlemartyr on Wednesday evening. It also allowed players who missed the Douglas outing on Sunday to get a game ahead of the league start at the weekend. While the ground was heavy the Sars boys did well.
While we were second to every ball and weak in the challenges for the second half brought major improvement with some last ditch Kiltha Óg defending denying Sars.
While there was some great work at times with blocking and catching we need to work as a team and developing these good points over a full game with focus on tempo and work rate.
On the balance of the game Kiltha Óg were more up for the game and thus reflected the final outcome.
Like all games it is a case of looking for the strengths and weakness and develop the training sessions around these.
Thanks to the parents and boys from making the trip ti Castlemartyr and to our host Kiltha Óg. Looking forward to a return game out in the season.
*************
Sunday 13th April v Fermoy

Sarsfields U11 had what materialised to be a challenge match v Fermoy on the 13th April 2014 in Riverstown. What was billed as the first game of the U11 League it was conceded by Fermoy who had withdrawn.
Nevertheless it was a good contest. Sars fielded a Blue and a Black tem each comprising of 12 players.
Each team played two games 20 mins a side.
From a Sars perspective there was some great movement with some quick touches from end to end producing scores.
Most encouraging was the improvement in spatial awareness and the smart movement of the ball to other team mates. Again striking left and right without breaking stride has improved.
Overall it was a good performance with noticeable improvements and many positives.
Wednesday 23rd April v Cobh
Sarsfields U11 had their first League outing v Cobh away. It was a lovely evening with a large turnout of 27 players. We field 2 teams of 11 as per Go Games structure.
Most encouraging was the attitude, honest effort.
There was some great individual and combination performances on both Sars teams which produced some goals and points.
Our first touch is greatly improved as well as positioning and awareness with the speed and tempo of play most encouraging.
Some more development on striking with power and distance from hand and ground as well as support fellow players is required.
Overall it was a good performance with the result favouring us too.
Sars Abú
*************
2014 Match History
| | | |
| --- | --- | --- |
| Date | Versus | Location |
| Sunday 6th April | Douglas | Riverstown |
| Wednesday 9th April | Kiltha Óg | Castlemartyr |
| Sunday 13th April | Fermoy | Riverstown |
| Wedneday 23rd | Cobh | Cobh |
| | | |
| | | |
| | | |
| | | |
Head Coach
Michael King
+353 85 807 5631
mk.sarsfields@gmail.com
Coaching Team
David Walsh
Lar Finn
Michael Shanahan
Training Schedule
Training Schedule 2014

| Day | Time | Location |
| --- | --- | --- |
| Sunday | 9:30 am – 11 am | Buck Leary's Cross / Kiely Park |
| Wednesday | 5:00 pm – 6:00 pm | Buck Leary's Cross / Kiely Park |
Rebel Óg U11 Hurling League 2014
Note : Due to Bishopstown withdrawing from League a new fixtures list has been published. See revised schedule below.
Rebel Óg U11 League – Sarsfields Fixtures

Date
Time
Versus
Location
Sunday 13th April
9:45
Fermoy
Sarsfields
Wednesday 23rd April
18:30
Cobh
Cobh
Saturday

10th May

13:00
Na Piarsaigh
Na Piarsaigh
Saturday

17th May

13:00
Midleton
Sarsfields
Saturday

7th June

13:00
St. Vincents
St. Vincents
Saturday

14th June

13:00
Blackrock
Sarsfields
Saturday

28th June

13:00
Glen Rovers
Sarsfields
Club Shop
NEW CLUB SHOP OPENED IN PAVILION SATURDAYS 10 AM TO 12 MIDDAY
Top quality hurleys are available from our club shop.
Also Club Helmets are available at a subsided rate for members. All of our hurleys are hand picked by experienced hurling people and we can also supply and fit grips to ensure the hurley is comfortable for the child.
Please drop in and have a look at the latest range of tops as well as our full range of hurling gear, skin tops, and new training wear.
Hurley Repairs
Unfortunately. due to ongoing cost pressure, Sarsfield's Juvenile Club is no longer in a position to provide free replacements for hurleys that are broken during training or matches.
Subsidised Hurley repairs are available at a cost of €2 – Contact your Head Coach.
Code of Good Behaviour
All Players and Parents should read and adhere to the Code of Good Behaviour (Please see the bottom of this page).
Lost & Found
No items at the moment.
Comments
comments