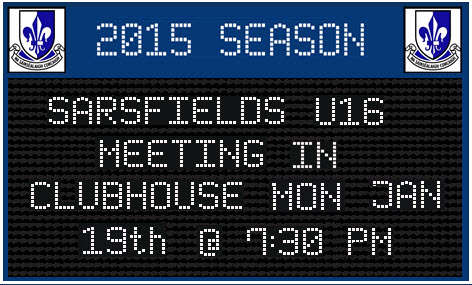 Season 2015 throws in for the Under 16s with a meet and greet between the players and the new management team on Monday night next the 19th January. The team will be managed by Keith Mulcahy with Willie Barry, Michael King and Cormac Duggan involved as selectors. All Under 16 players are asked to attend at 7:30 pm in the club pavilion in Meeting Room 1.
Willie brings a wealth of experience being involved with Junior and Senior set ups and last year as a U15 selector. Cormac will be a massive addition as he comes from the successful Sars Senior Team. Michael managed the 2014 U11 Team and has been involved in many other under age teams over the last number of year.
There will be two U16 teams this season, Premier 1 & 2 to ensure every player gets plenty of game time.
Last year was a great year for the group and we hope to bring the them further on this year. Training will be designed around the strengths and weaknesses from last year as we strive to go one step further this year and retain the U16 championship.
Comments
comments